No, I was not a Halloween party in Sao Paulo, but rather had a night of College Football, UFC, and plenty of food and wine. My original plan was to head to O'Malleys for the viewing of the Ohio State vs Wisconsin game last night, but I was invited by Valerio to come to his home and watch the UFC 137: BJ Penn vs Nick Diaz. Of course I could not go without the Ohio State game, so I attempted to stream it live on the Internet at Valerio's using my ESPN3 online account. However, I was notified that the account does not work in the local country, which is obviously Brazil. Instead I pulled up the ESPN GameCast to track the game and a few streaming plays of the videos while we watched the UFC event live. I now had everything I needed as the host had an assortment of meats, cheeses, pizza, and not to mention a bottle of Argentinian wine to enjoy. Besides, I never had the privilege of watching MMA with two Brazilians. Remember my assumption (joke) that all Brazilian males over the age of 13 knew MMA?
Despite being an underdog at home, OSU's defense kept them in it until the second half when the offense was able to put some points on the board. With each refresh of the GameCast tracker, built anticipation of a late game ending. After losing most of our good players due to suspensions for illegal benefits, this season has been a bit of a roller coaster, mostly in the wrong direction. The collapse at Nebraska after being up by 3 touchdowns, or not being able to score vs Michigan State. Ohio State was two touchdowns ahead, however I knew that with Wisconsin's experience and Ohio State's inexperience, the momentum would change with one lapse in judgement.
Valerio and I also discussed a little soccer noting that I was attending a professional game on Sunday with some of the staff from Tecno Logys. The local favorite of most of the people I have met in Sao Paulo, the Corinthians, play one of the worst teams in the league. It will be a good game to see, as I am hoping for lots of scoring. In a joking manner, Valerio mentioned that he thought I might be able to witness a "tragedy" (of Shakespearean proportion) at the match on Sunday. If you recall from
last week's post
, he cheers for another team who tied with Corinthians last Sunday. We had a good laugh and I was explaining how uneasy I felt about the Ohio State game despite our big league. And it happened, Jordan Hall fumbled a punt giving Wisconsin life. Just as Wisconsin scored a touchdown, Valerio retreated downstairs momentarily to grab another bottle of wine, this time a Chilean red. Valerio seemingly more confident than I was about the Ohio State game, joked that he thought I was about to suffer a "tragedy" in this game.
But then Wisconsin scored again on their next possession to take the lead with just a few minutes to play. At this point I laughed because the recent struggles of our team were not surprising, but Valerio was starting to get a little nervous after his joke. Valerio was kind enough to pour me another glass of Chilean wine to help ease my sorrows. With a highly talented, but rookie quarterback at the helm, it was going to be tough to get anything more than a field goal attempt. With 20 seconds left in the game, Braxton Miller scrambled left, scrambled right, and heaved the ball toward the end zone finding fellow freshman, Devin Smith, for the touchdown. A small celebration erupted in Sao Paulo from me, Valerio, and Bernard who was awoken by our celebration. The Ohio State game ended in Shakespearean fashion, however this game was not a tradegy but a fairy tale.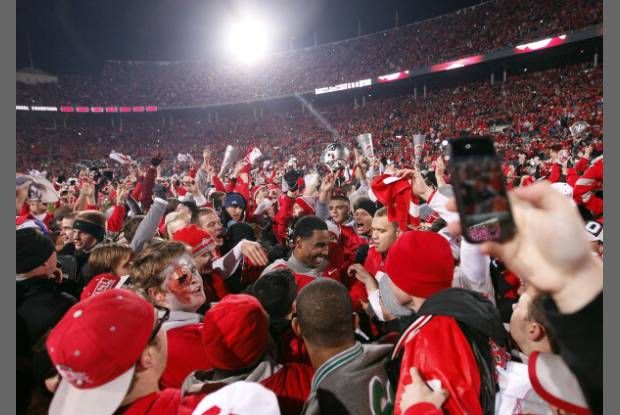 Braxton Miller, center, celebrates with OSU fans in the Horseshoe
The focus was now back on UFC. After a few good under card fights (which included Congo vs Mitrione and Cro-cop vs Roy Nelson), it was time for the main event of the UFC 137. Nick Diaz and BJ Penn proved to be a great fight, with both fighters deciding to abandon their Brazilian Jui-jitsu and trade punch for punch. It was a very entertaining fight ending in a unanimous decision for Nick Diaz. Diaz picked apart Penn with his length and reach advantage, shutting Penn's left eye in the third round. The final stats of the bout were 166 of 260 punches landed for Diaz and 69 of 107 punches landed for Penn. Penn had the only takedown of the fight. The dominating performance led to an unexpected announcement from Penn that he was retiring from the sport.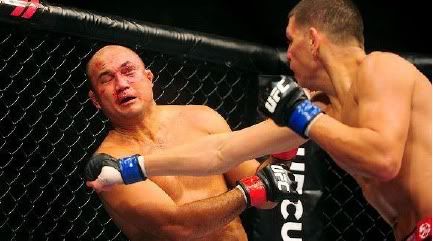 Nick Diaz's right hand was too much for BJ Penn
Despite Ohio State and UFC being finished, there was still a half bottle of wine and ESPN was showing the ending of the USC and Stanford game, which was headed into overtime. This was a great opportunity to explain college football overtime rules, as it was not common you get to see 3 overtimes. It was another fantastic finish as Stanford won after recovering a USC fumble in the end zone. We had finished the wine so I taxied back to the hotel to get rested up for my Sunday in Sao Paulo.