Despite that I am in Sao Paulo, Brazil experiencing the Spring season, the Fall season has quickly fallen upon Central Ohio. The third week in October marks the annual
Circleville Pumpkin Show
, which is famous for being the "Greatest Free Free on Earth". For the record, I will call
Williamsport, Ohio
my hometown until I'm six feet under. But for all intents and purposes,
Circleville, Ohio
is my hometown, because that is the only place within 20 miles we could go to the grocery store, find shopping centers, or find fast food restaurant. My take on it is, I'm not sure it can claim to be free, when parking costs $10, and I almost always spend a lot of money on pumpkin flavored foods and beer. Not to mention the world famous Lindsey's Bakery pumpkin donuts that are so good, people stand in line for 4-6 hours just to buy a dozen of them.
Almost a half million visitors will attend the Greatest Free Show on Earth from Wednesday to Saturday to eat great food, watch some of the best marching bands perform, ride rides, play carnival games, and my favorite, to eat pumpkin pie. A town of less than 15,000 people will see a huge rise in business that often times gets the local businesses through their year until the next annual event. On Wednesday afternoon, there is the great pumpkin weight in that would make
Charlie Brown
jealous. Most of the winning pumpkins surpass the 1,600LB mark, with this year's winner,
a local optometrist
, weighed in at a whopping 1,436LBS. Given that the weather and growing conditions were not ideal for pumpkins this year (the farmer in me), that is an impressive number. On Wednesday evening, the 2011 Miss Pumpkin Show Queen will be crowned, to reign supreme over the four day festivities.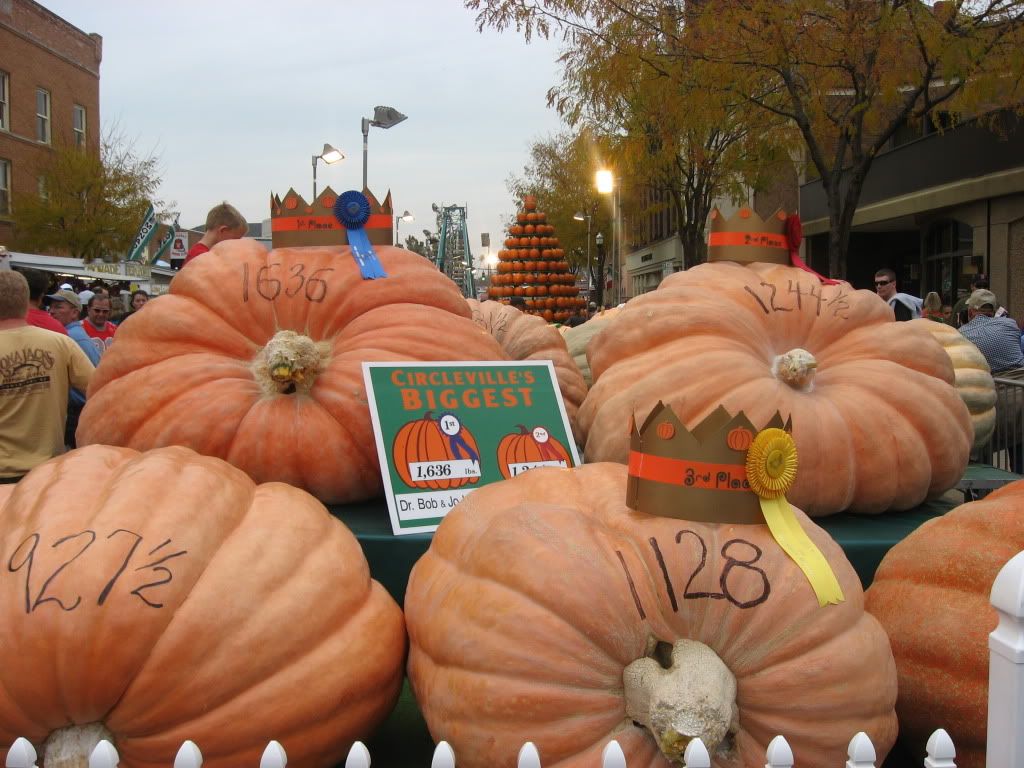 Just think how many pumpkin pies you could make!
If you ever pass through Ohio during the third week of October, be sure to stop in and say hello. Just like Motel 6,
We'll leave the light on for you
.