And week three continues with the legend of the chair growing. This afternoon, I was able to meet Marcelo Nakagawa, a professor of Entrepreneurship and Innovation, and also the man who authored the article in the Brazilian Economist, "
Menos e Mais
". This article included the story of my office chair here in Sao Paulo (if you are completely lost you need to read my posts"
Tyler Schleich and the Three Chairs
" and "
15 Seconds of Brazilian Fame
", and "Menos e Mais"" for the background).
The article was about Entrepreneurship and it began with a story about Marcelo's description of his living conditions in a Boston area dorm room during a visit to the U.S. for a summer course. The Entrepreneur that I am teamed with here in Sao Paulo, Valerio Dornelles of Tecno Logys, shared a story of not having any chairs big enough for his skill based volunteer from Ernst & Young, who was nearly two meters tall (that's my 6'6'' height for my American friends not on the metric scale). Like any good Entrepreneur he found a solution, which happened to include buying me a nice big chair for me. (many thanks Valerio and Vanessa!)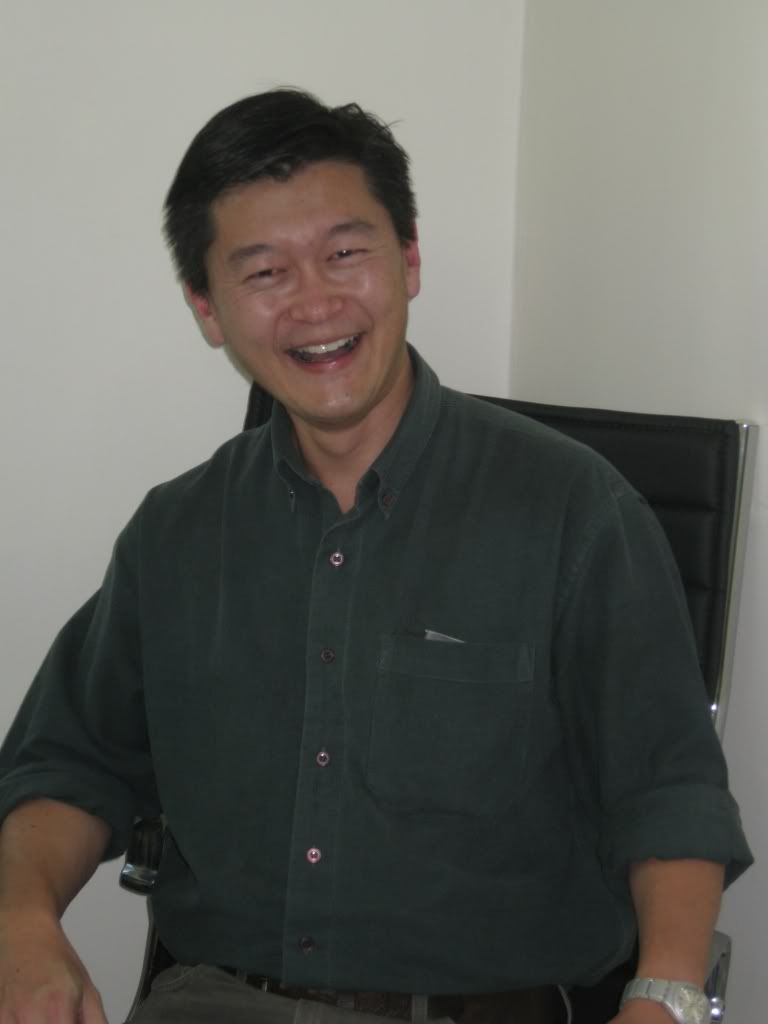 I was able to capture a picture of Marcelo in the famous chair.
The greater purpose of the story is not about the chair or living conditions in a Boston area dormitory. The greater purpose of the story is how it all ties together, which is Entrepreneurship and the Ernst & Young Corporate Responsibility Fellowship Program. Now in its seventh year, this skills-based volunteer program enables some of the firm's top performers at the executive level (manager and above) to help high-impact entrepreneurs create jobs, foster innovation and generate broad economic value in regional emerging economies. I had a chance to sit and discuss the specifics of the program with Marcelo and Valerio today. As you know from my previous posts, Ernst & Young supports entrepreneurs around the globe because they generate jobs, stimulate economies and spur the kind of innovation that can transform industries and strengthen communities. Some facts that I did not include before include, that to date we have had 59 Fellows assist 55 high-impact entrepreneurs in Latin America, and over the past six years, we have contributed more than 18,000 hours — the equivalent of over $5.8 million (USD) in professional services — to help these high impact entrepreneurs improve business processes and develop strategies for their organizations. These numbers will increase when my class completes their fellowships next month.
The Fellows program is one aspect of our broader relationship with Endeavor Global. Earlier this year, Ernst & Young announced a three-year sponsorship agreement with Endeavor. Under the agreement, Ernst & Young will sponsor Endeavor research on topics related to entrepreneurship in emerging markets as well as extending support to Endeavor's
International Selection Panels
. In return, Endeavor will become a designated supporter of, and help to identify potential nominees for, E&Y's
Entrepreneur of the Year
program in countries where both organizations operate.
Now that the legend has grown, I am the one in need of some skill based creative thinking. I must think like an Entrepreneur, to figure out how to fit the famous chair in my carry-on luggage when I fly back to the U.S. Or maybe, I can tell the airline that I do not need to buy a seat because I already have one.