Today was business as usual in Sao Paulo. I was back in the office for the day after being on the road visiting factories and building sites for much of the week. This week I continued to expand my understanding of the construction industry and the Tecno Logys business. Just like everyday, the day began with breakfast and a taxi ride. One minor variation I had today was that today, I picked up my laundry from the laundromat across the street. Do you know what $66BRL of laundry looks like? I do. And now you do too.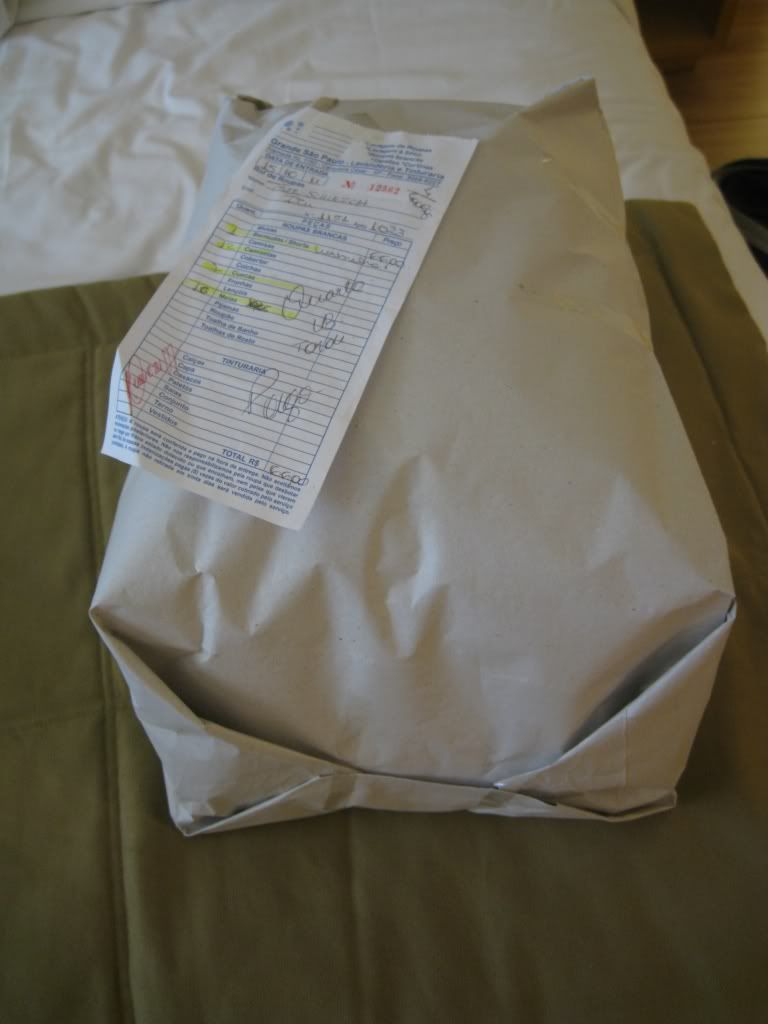 My Block of Laundry
I dropped off my laundry last weekend (which did not look like a cube), and it cost me $66BRL or the equivalent of $40USD. As you can see, that is not much laundry. In fact the invoice details out how many of each item are included and it is roughly two weeks of laundry. You should also consider that yes, my clothes are bigger than most people's. Think that is expensive? Try $12BRL per each dress shirt that the hotel wanted to dry clean them! Good thing I brought 20 dress shirts with me and only have to have them dry cleaned (or do the old iron and wear again) once. Dan Black, Ernst & Young's Americas Director of Campus Recruiting, gave me some of the best advice thus far and that is that "ironed clothes are overrated". Spoken like a true road warrior.
In regards to what you came to the blog for, the taxi rides. Unfortunately, no crazy story other than the taxi driver again getting lost despite me handing him the "g" Map Directions. I even translated them in Portuguese but the drivers never use them and end up taking a wrong turn (most likely on purpose). I finally made it to the office and had a meeting with Valerio, the CEO and Founder of Tecno Logys, and Fernanda, the Endeavor representative assigned to the company. We have a weekly status update meeting, to go over the results to date, and the action steps of my project. One thing I have learned over my career is that status update meetings are a great tool to manage a long term project and keeps all parties on task and poised for success.
I also received a depressing email today. Those that know me well know that I am normally never too high or too low (except for Ohio State Football games), but this email was one that I did not need to receive. It was my 401k (retirement investment account) monthly statement. I strongly believe in saving for the future, so I put away 20% of my salary each paycheck. But for some reason, despite more money going in, the balance keeps going down. I think the bucket must have a leak somewhere. My saving grace is that despite my desire to retire in 5 years, I am a long way from retirement and have plenty of time for those balances to grow.
It was a rather uneventful day at work today, I spent a lot of time in my favorite Microsoft Applications: Word, PowerPoint, and Excel. I am pretty good at spreadsheets and presentations so I try to leverage my abilities. I also made a work flow calendar using a pen and a ruler which was very resourceful. I used this calendar to map out the remainder of the time here in Brazil and I realized that there is not much time left to get everything done I would like to. Its hard to believe three weeks are already over and only 4 remain. There is so much I want to accomplish at work and also places I want to see around the city and I am running out of daylight. I need to find a good source of redbull here in Sao Paulo!
On the taxi ride home I saw several cars with trailer hitches on them. Now, normally this would not be an unusual site, except you have to remember these cars are smaller than I am. I'm not sure what kind of boat or trailer they are going to be hauling with a Smartcar. I had seen them for the three weeks I have been here, throughout different areas in Sao Paulo, so Ive asked around about what they were used for. One hypothesis is that people get them, get this, not to actually tow things, but for bumper protection. Not a bad idea, unless you are two meters tall and know how bad it hurts if you walk into the side of a hitch with your shin. Very funny nonetheless.
I am off to dinner and then back to finalize my Sao Paulo Bucket list, book flights to Rio and Buenos Aires as well as add some more things to the blog. As you can tell, it's a wild and crazy night tonight, but it's just business as usual, here in Sao Paulo.