Tonight, as Disney would say, we gained another "cast member". Time Irado gained Katie's fiance Ryan, who flew down from New York to join us. This called for the perfect celebration at a local brewery that we have walked past a couple of times. Time Irado headed what I believe is south, on Bela Cintra here in Paulista Jardins to the local microbrewery, Devassa. (Click "Read more" to continue this story.....)
In 2001

,

two

young entrepreneurs in

Rio de Janeiro nightlife

realized that there was

a

gap to be filled

: to create

a

special beer

with

Brazilian soul

and

European quality

.

It was then

developed

Devassa

, a beer

named

bold and

refined

taste

.

Devassa in Brazil is a word used to describe a gal in the oldest profession, hence all the Devassa beers have female names. A shed

located in the district

of Santo Cristo

in Rio,

was the setting

for the idea.

But

nothing would be possible

without the creation

of the bars

to bring

the characteristics of

beer.

The starting point

occurred

in 2002

with the

first own store

in 2002.

The investment in

the brewery

business has turned

into a real

temple of

the

trial

product.

With

resounding success

,

it

was not long before

the birth of a

second unit

in early 2004

.

Later that

year

,

the project

began

franchising

in 2007

,

and

already had

11

units.

It was

also during that time

it

established the partnership

between the

Group

and

Devassa

Schincariol

-

the second

largest brewer in Brazil

- and the

result was the

improvement of

logistics

and

distribution processes

, maintaining the quality

craftsmanship and

differentiated

brand

communications

.
The interior of the brewery is decked out in decor similar to any other brewery back home in the U.S. with the glass window showing the barrels where the handcrafted contents are brewing ready to be consumed. However, upon further review, there was an unusually large population of silhouettes of women on the walls. After we ordered food, we discovered that the micro brews were named about women of sorts. Each having their own characteristics and what I consider "mood" just like women back home ( right fellas? I'm sure Ryan would agree). Devassa has also been linked to Paris Hilton and other top models so there is no doubting the market niche they are hoping to create. Just take a look at their corporate logo.
The Brewery has 5 distinct beers, each catering to a separate category of beer drinker. What did Time Irado do? We tried all 5 just to make sure their claims were reasonable.
The reviews are below with help from the
Beer Advocate
.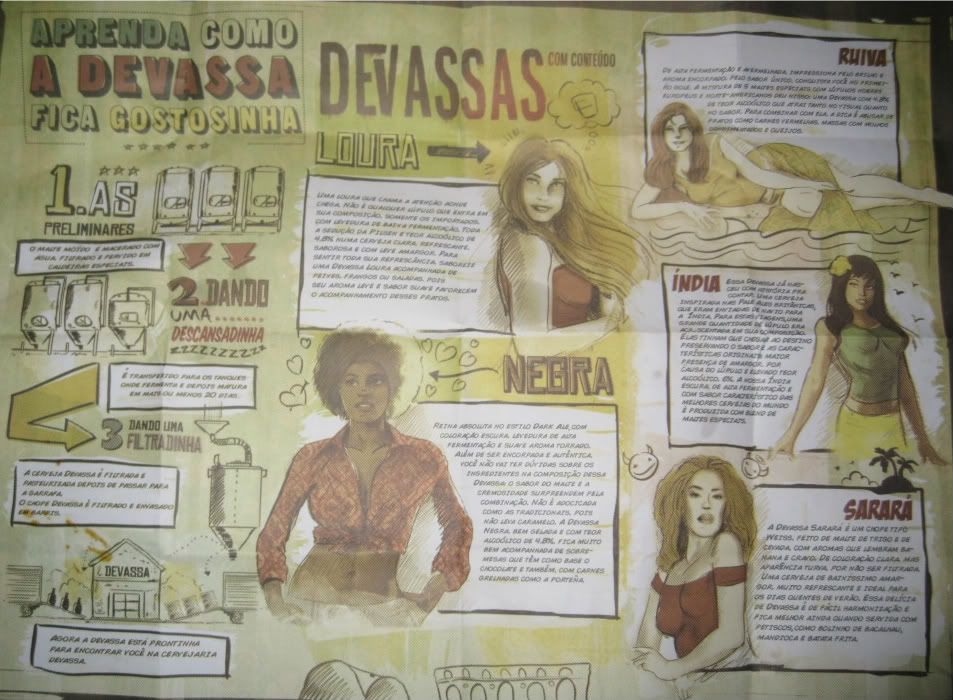 The placemat and menu of the Devassa craft beers
Loura (top left), Negra (bottom left), Ruiva (top right), India (middle right), Sarara (bottom right)
The Devassa Loura is a very good pilsner produced in Brazil by a special brewer. It is golden and clear in color and in true Brazilian Chopp fashion, it came with a thick froth foam head that lasted through the tasting. The smell was standard for a pilsner but nothing exciting. The Taste was very smooth, grain, malt and hop worked quite well together to give this beer balance. It is very easy on the mouth and good be drank in significant quantity. Grade B-.

Devassa Negra is a very good dark ale, and is much better than the Maizbeir that you can find here in Brazil. This beer was dark in appearance and came with a big Chopp head. The smell include chocolaty sweetness and malt. The taste was a tinge of sweetness but was powered by good malt. The mouthfeel was pretty light and easy drinking. A very good beer that provides Brazil with some diversity. Grade B+.

Devassa Ruiva a "darker" version of Loura was also a fairly good beer. As with all Brazilian Tap (Chopp) beers there was a sizable head that retained during the entire tasting. The smell was pretty bland, some malt and grain present. The taste was not as smooth as Loura, but still ok. A bit more malt and hop present with this beer to give it a tad more bitterness. Mouthfeel was good and would enjoy this on any occasion. Grade B-

Devassa India was my favorite of the litter. It was copper clear in color and came with a big Chopp head that retained throughout the drink. The nose carried some English hop, but nothing fancy. The taste was a fuller bodied ale with some hop. This beer is similar to a Bass family and was pretty good tasting. definitely a hop presence which made the beer quite nice to drink. The mouthfeel was a little tough due to the 5.8% ABV. It was the closest beer to my favorite, the Stella Artois or any other great European Beer. Great beer for Brazil. Grade A-.

Devassa´s newest beer to their family is a hefeweizen. About time. The creamy white head on top the slightly faded wheat field yellow drops away to a thin lace and leaves spotty retention on the glass. It´s aroma is a good one. Pleasant aromas of clove and bubblegum with a heavy trace of its wheat grains. The taste follows a similar path, though a little lighter in intensity than anticipated. A big burst of lemon knocks out much of the bubblegum. Pretty tart as well. If there´s a knock on this beer, it´s that it´s very light and on the fence of being watery. Grade B.
After the beers, we headed to Reimpressao, a low key restaurant located on Haddock Lobo in Jardins, for the nightcap. We ordered one round of the traditional Brazilian Caprinhinas and then at 11pm, hiked the 3 blocks back to the hotel to get rested up for the weekend. Note: Many of the local Paulistas were just heading to dinner at this time.
I hope you enjoyed reading about the beers as much as I did drinking them.