Mark your calendars, set your iPhone and Blackberry alarms, and get ready for an epic event!
This Thursday, November 10th at 11am, starts a 24 hour fundraising initiative called the "
The Big Give
" in Columbus, Ohio. I have lived in and around the Columbus area for my 29.71 years on this planet but have yet to be more intrigued by an opportunity like this.
The Columbus Foundation
, a local philanthropic group, has pledged $1Million in matching funds to local charities. So from November 10th at 11am through November 11th at 11am, all donations will be pro-rata matched. For example, if $2 million is contributed during the 24-hours of giving, it would be divided by the $1 million available in the matching pool. The results would be that every dollar donated would be matched with 50 cents. Therefore, if you donated $100 to a local organization, The Columbus Foundation will match $50 to that same organization. Pretty simple right?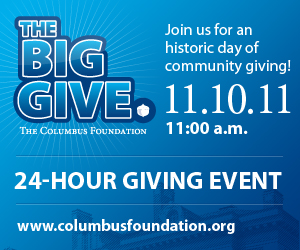 You say you are interested in participating by donating money to any of the 600 charities involved? Well, during the time period stated above, you can make a minimum credit card gift of $20 or Foundation donors can make a minimum grant of $250 through their Donor Advised Fund(s), and support one or more of the nonprofits in PowerPhilanthropy. To begin, visit The Columbus Foundation's new and improved PowerPhilanthropy at
http://www.columbusfoundation.org/
and click on the homepage banner. Columbus Foundation donors can make a gift using their Donor Advised Fund(s) or by using a major credit card (VISA, MasterCard, Discover, and American Express). General public may participate by using a major credit card (VISA, MasterCard, Discover, and American Express).
Everyone making a donation will receive an e-mail confirming receipt of their donation or grant. For donations made by credit card, a nominal fee of 3.3% per transaction is charged. The Columbus Foundation receives no income from any credit card charges. Donations, once made, cannot be rescinded. The match ratio will be posted on
http://www.columbusfoundation.org/
on Monday, November 14 as these details may take a couple of days to be available.
I will also extend the offer I made in
my last blog post on social responsibility
to donate money to Endeavor or Kiva to include monies donated during this initiative.Please see fine print of that blog post for rules and regulations. Happy Donating!