Last night Time Irado headed to our last dinner together at
Terraco Italia Restaurant
(click the link to see a panoramic view of the city) on the top floor of the Italia Building located near the center of the city. This restaurant and bar was recommended by one of the production managers at Tecno Logys, Halysson, and as we did not have a place picked out, we decided to meet Halysson and his wife, Patricia, for dinner and drinks. We were also joined by the finance manager from Tecno Logys, Vanessa, her husband Reinaldo, Amisha and Maria Juliana from Endeavor Brasil, and Amisha's boyfriend Dan. The restaurant boasts the best view of the city and it did not disappoint. Previously, views from the Skyebar at Hotel Unique had us awestruck but the view from Terraco Italia was much better. It was like looking at the New York skyline from across the river versus from the top of the Empire State Building. Both beautiful views, but there is nothing like being atop the Empire State Building looking down at the other buildings.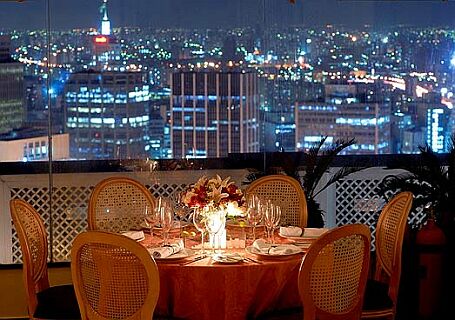 360 degree view of Sao Paulo from Terraco Italia Restaurant
This restaurant also had a very unique drink that I had to try, a Jack Daniels Caipirinha. I just posted the
blog about how to make Caipirinha's
but the Jack Daniels version was much different. The drink was made with about a quarter cup of honey, slices of ginger, a small sliced lime, and cloves. These ingredients were mixed and smashed together and then three ice cubes and three shots of Jack Daniels were added. I am a whiskey and bourbon fan but I was a bit skeptical when I ordered the drink and watched its creation. Upon tasting the drink, I was amazed at its smoothness and refreshing taste. You could not taste the whiskey and the cloves and ginger gave it a unique flavor as the honey and lime gave it a sweet finish.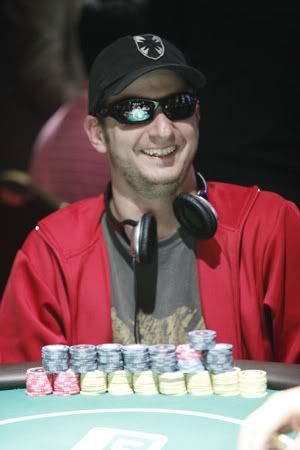 Haylsson laughs at the competition

Over drinks I was able to talk with Halysson and Patricia more in depth about Sao Paulo. Patricia is an architect, and what I would refer to as an Urban Planning because she does not design buildings but rather the urban setting. She explained the set up of Sao Paulo and it was a great place to do so as we had a 360 degree view of the city from the top floor of one of the tallest buildings in the city. I also learned that Halysson was an avid poker player. In March, he won an online tournament at PokerStars and earned a free entry into a major No Limit Hold'Em Tournament in Latin America. Perhaps we will see him on ESPN in the World Series of Poker someday soon!
Small food plates starting filling our table as dinner was brought out. I ordered Filet and Mushroom strips which were served in a very tasty sauce. The only problem was that it was served with a spoon and no fork. Also on the plate was a salt or pepper shaker marked with one hole. I figured I would try some of the seasoning and eat my food with a spoon. When I went to shake some of the seasoning on my meat, I was shocked when a toothpick came out of the shaker. It suddenly hit me that I was suppose to use the toothpicks to eat the meat!
During the dinner I was also able to talk with Vanessa and Reinaldo as well as our friends from Endeavor. We reviewed our experiences here in Sao Paulo and discussed our favorite parts, mostly about the food and drinks! After we finished dinner and drinks we headed back down the two elevator trip to the ground floor to find our taxis home. It was another success night out in Sao Paulo but most importantly we were able to share it with some locals. Time Irado is grateful to everyone for their hospitality and willingness to allow us to see the "Real" Sao Paulo.