Last week before heading to Rio, Time Irado stopped by to see the
The Memorial da America Latina
. It is a government run institute aimed at promoting cultural, political, economic and social activities in Brazil and other Latin American countries. Designed by one of Brazil's most famous architects, Oscar Niemeyer, the center was inaugurated in 1989 and contains a number of libraries, auditoriums, art galleries and concert halls. In the main square (
Praça Cívica
), there is a large concrete
sculpture,also designed by Oscar Niemeyer, representing an open hand in vertical position, with the map of Latin America painted in red. It's a symbol of Latin America's past of oppression and its battles for freedom and democracy, with the red map as a reminder of the blood from the sacrifices that were made.
There were many interesting things to see at the memorial which had an in depth look at all of the countries represented in Latin America. There were displays showcasing each countries unique artwork, main exports, as well as its history. One of the best displays was actually a replica model of Latin America. It had all of the landmarks from each country as well as a few other notable points of interest. I took a picture of it below but the picture does not do it justice. You are actually standing on top of the display looking at it through glass floor panels which was a nice touch to the presentation.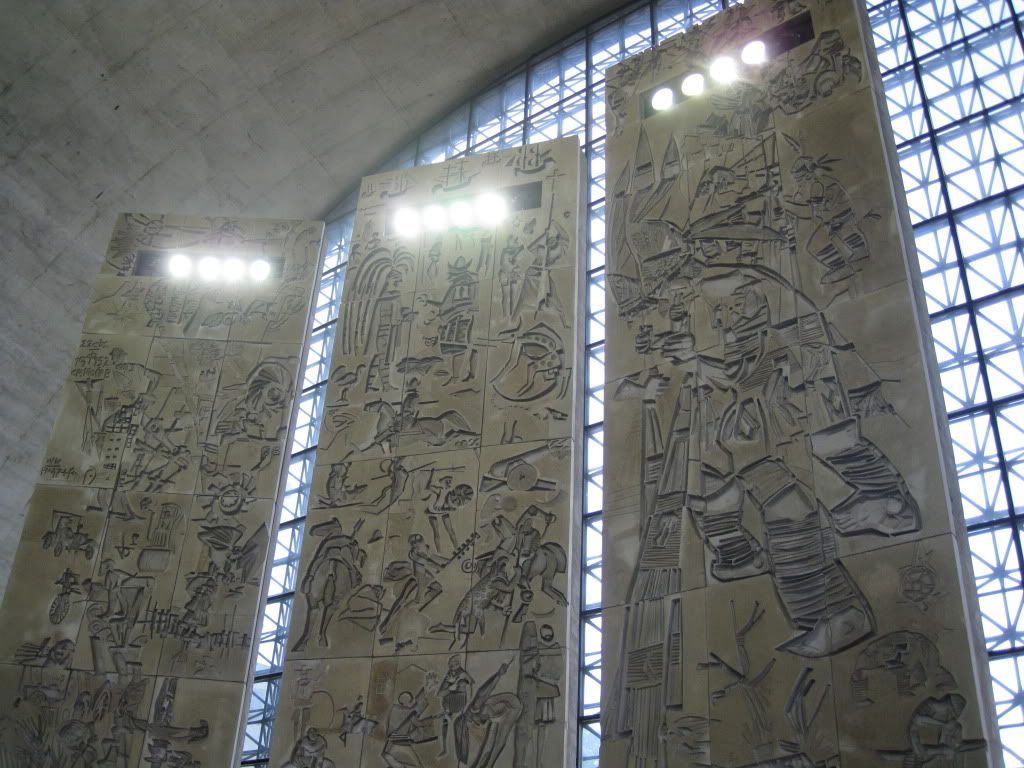 In another building, the history of Latin America was displayed visually through graphics displayed on 150 foot tall concrete slabs. Each piece told a different part of the history of Latin America through its storied history. There was a school field trip in this building as we walked around to take in the displays. I think the kids were more amazed there were Americans (one of them being two meters tall!) walking around while the listened to a museum employee talk about each piece.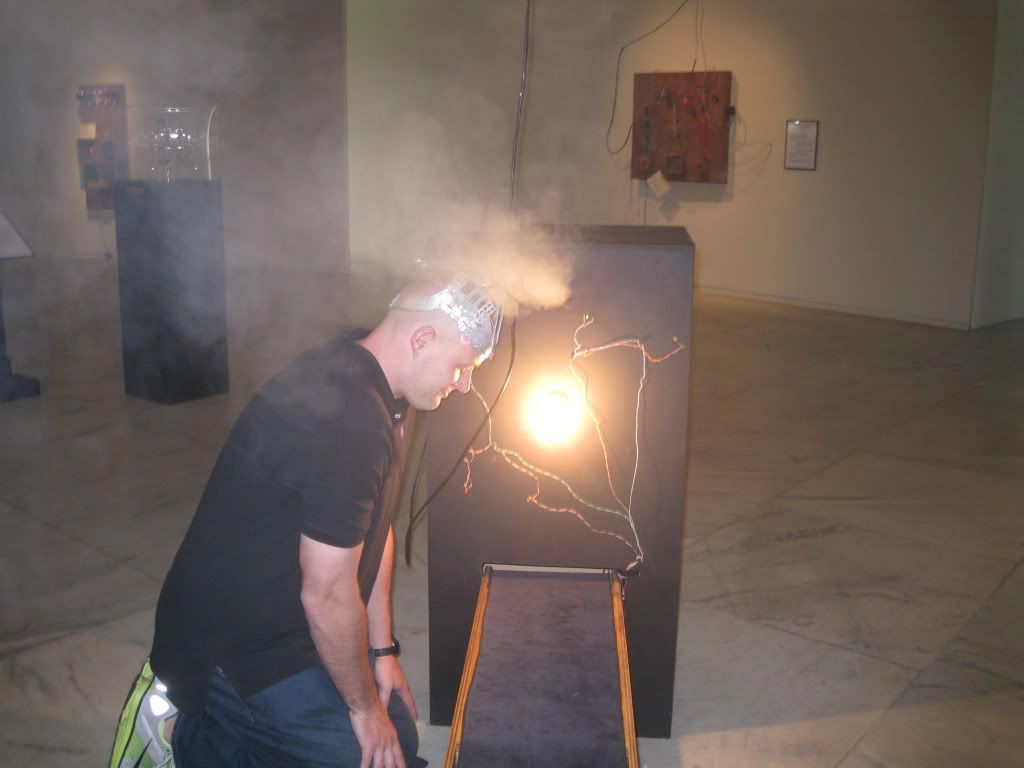 In another building, there were displays of random artwork which I would not have been impressed with at all until the final piece made up for the others. Many of the pieces used small motors to make noise, or move objects back and forth, and reminded me of a 12 year old science kit project. The final piece, was something that you actually had to interact with. There was a harness you put on your head and by concentrating hard enough it was suppose to create a printout that you could read. If you don't believe me, see the picture of me with the harness on and the smoke coming off my head!
Still don't believe me, watch this video of Ryan's attempt to mark art. The video also includes a museum worker coming over and telling him to try it again and explain how to do it (in Portuguese) when it did not work the second time either. You can also hear my attempts not to laugh and ruin the video!