Last night, "Time Irado", Ernst & Young Corporate Responsibility Fellows from Sao Paulo, Brazil (minus Jamie who did not travel with us), met up with the Ernst & Young Corporate Responsibility Fellows from Buenos Aires, Argentina (minus Kieran who had his weekend travel back to Buenos Aires delayed). Rom Ginzburg, Transactions Manager from Tel-Aviv and Trisha Chang, Assurance Manager from San Francisco, hosted us at a local Parrilla (steakhouse),
El Desnivel
, located in San Telmo. We were also joined by Florian Holm (BCG - working with an entrepreneur with Endeavor) and Elizabeth Washburn ( who is doing a Princeton Alumni Fellowship with Endeavor)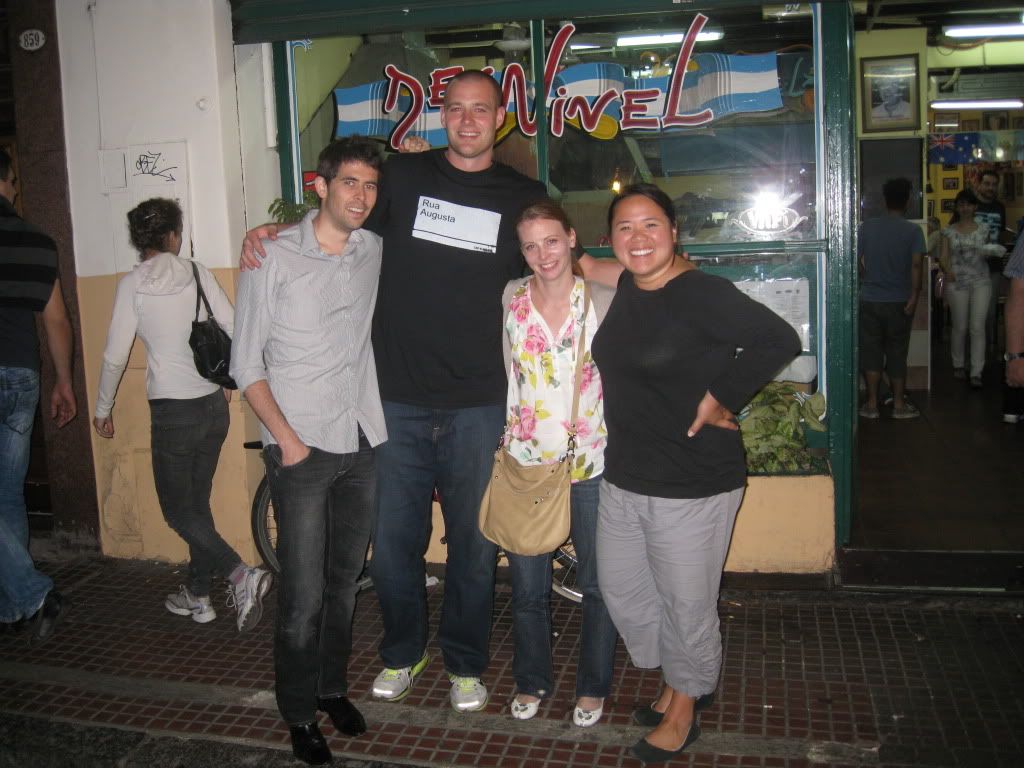 E&Y Corporate Responsibility Fellows
(L to R) Rom Ginzburg, Tyler Schleich, Katie Duggan, and Trisha Chang
As we were the guests in their city, we followed their food suggestion advice and ordered Asado, Chorizo, Blood Sausage, and also a San Telmo Malbec wine to compliment the large amounts of meat. We also dined on a Dulce de Leche (similar to a caramel pancake) and ice cream for dessert. Over our feast we shared our "war stories" of travel experiences, work experiences, and talked a little more in depth about our backgrounds, since after all, we had only met for a day and a half training before departing for South America. We all agreed that it was hard to believe that there was only one week left in our 2011 Ernst & Young Corporate Responsibility Fellows Program and that despite all of us experiencing different things, we were having a great time working with our Entrepreneurs and experiencing the cities.
One story in particular, is when Ryan (Katie's fiance) and I were talking to Rom about his family, he noted that one of his brothers lived in Nashville, Tennesse. Ryan brought up the fact that he did his MBA at Vanderbilt in Nashville and lived there for a while before moving back to New York. During the conversation, it was also discovered that Ryan knew Rom's brother as they both worked at the same company. Another example of how small this world truly is.